---
Yes, you may... But, if you are a sensitive person, beware... So many people are buried in the crypt... It is an upsetting place.

In the basilic, you can find statues of Louis and Antoinette that are just wonderful !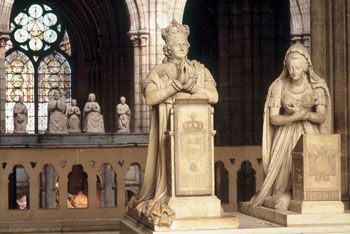 Her face is so pure, so beautiful...

However, her tumb in the crypt was a deception to me... Just a black plaque... I felt no emotion, no peculiar feeling...




Then, I went to the little Square Louis XVI, and the Chapelle Expiatoire, that was built where Marie Antoinette and Louis's bodies remained for so many years...



It is so weet, so peaceful a place... with birds singing and children playing... There I felt her presence...